Raising Funds – and Awareness.
The Riverside Foundation Women's Board conducts fundraising activities throughout the year to the Riverside Foundation. Some of   events include:
Annual Golf Outing
A major fundraiser is our annual golf outing held  at Royal Melbourne Country Club in Long Grove, Illinois.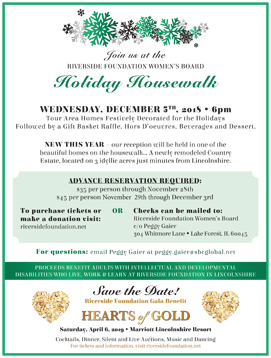 Every December, the Women's Board hosts the annual Holiday House Walk and Boutique that draws people from the surrounding area to tour beautifully decorated homes. It also features local vendors who showcase their handiwork.
The Women's Board holds many smaller fundraisers and social activities throughout the year.
Looking to help out with a good cause?
Riverside Foundation relies on your donations to provide updated and enhanced equipment as well as innovative programming for our residents. Your generosity is guaranteed to have profound impact on someone's life. You can make a difference!