Making A Difference Since 1976
Riverside Foundation was incorporated in 1976 and provided residential services for 99 individuals with intellectual and developmental disabilities at our campus in Lincolnshire. Many of our residents came from the Dixon State School, Lincoln State School and Shapiro Developmental Center – all state operated institutions being downsized or closed due to the deinstitutionalization movement. Others came from several private facilities that ceased operations. And, others came from family homes after aging out of school programs or because their aging families were unable to meet their physical, medical or behavioral needs. As state and federal regulations became more stringent and expensive to meet, Riverside met the challenge by increasing its communication with families of residents and the Lincolnshire community.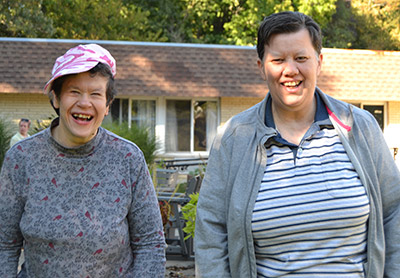 Frances Galluzzo and Kathy Sterett enjoying a beautiful day on the patio at Riverside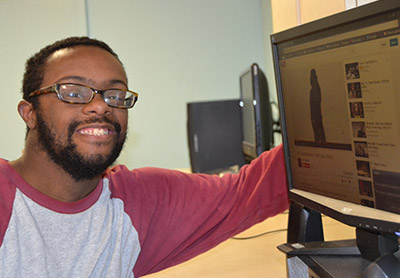 Orlandis Patterson exploring YouTube at the Riverside Campus
Onward and Upward
To solidify the support of our residents' families, the Relatives & Friends of Riverside Foundation was formed in 1978. In 1981, we received the support of a second support and fundraising entity when interested community members formed the Riverside Foundation Auxiliary, now called the Riverside Foundation Women's Board, which continues to help us raise money, awareness and support.
In 1986, we began providing off-site developmental training programs at Woodland Park School in Deerfield. This expansion was supported by the newly enacted Medicaid Initiative which allowed select agencies to provide developmental training programs for their residents. In 2004, this program was relocated to a larger space and more appropriate building in an industrial park in Vernon Hills.
In 2015, Riverside Foundation opened a men's Community Home in Gurnee and a women's Community Home in Grayslake.  We eagerly await the opening of a men's Community Home in Wildwood as we continue to grow, expand and serve our community.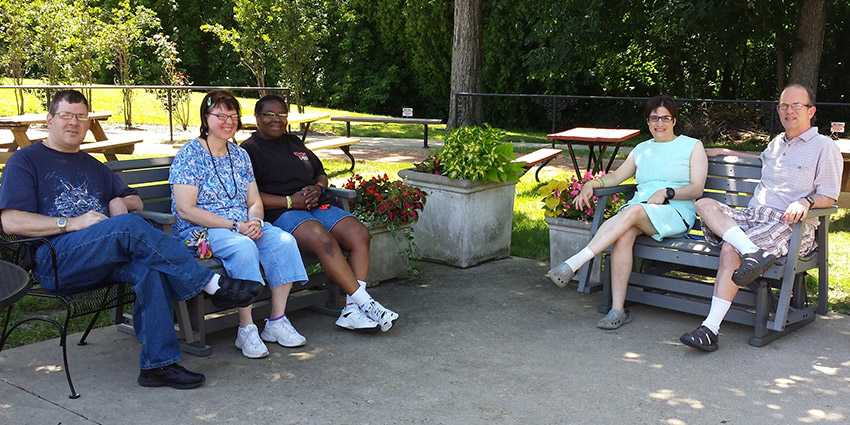 Rick Lange, Mary Swiatkowski, Donna Graves, Katie Ciura, Bill Mahrenholz (l to r) enjoying the patio at the Riverside Campus
Looking to help out with a good cause?
"Kelly has lived at Riverside Foundation for the past four years and comes home to visit almost every weekend. Sunday evening at about 6:00 PM Kelly reminds us that "it's time to go back to Riverside." We feel very fortunate to have found Riverside when we did and are very grateful that Kelly now feels as though he has two homes."

− Mary Schneider, sister-in-law
Riverside Foundation relies on your donations to provide updated and enhanced equipment as well as innovative programming for our residents. Your generosity is guaranteed to have profound impact on someone's life. You can make a difference!