Residential, Work, and Social Support For Adults With Intellectual and Developmental Disabilities
Riverside Foundation is a vibrant special needs community that serves adults with moderate to severe intellectual and developmental disabilities. Since our inception, we have had a large residential services campus in Lincolnshire, Illinois.
In 2014, we expanded our services to include small group homes in surrounding communities. By choosing to live in a small group home with staff support, our residents are able to live in a more independent setting. Others will be able to pursue this option as we continue to expand.
In addition, our Work and Activity Center provides a work environment that teaches functional skills, good work habits and specific job skills. Our residents provide much-needed services to the business community including light packaging, assembly, inserting, labeling, collating, mailing and bulk mailing.  Our supportive atmosphere emphasizes individual autonomy within an environment of professional care.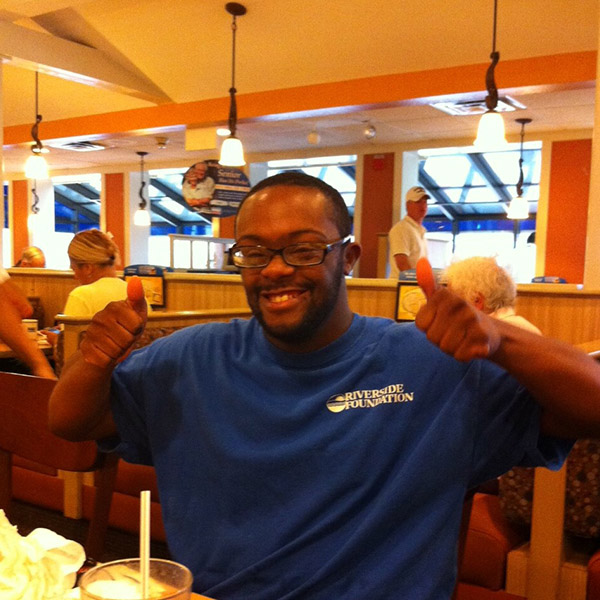 Residents enjoying breakfast at IHOP!
How Our Services Work
To help our residents make the most of our services, each resident is assessed for individual strengths and needs, along with their physical, emotional, and psychological challenges to ensure the effectiveness of our programs. Our professional staff integrates social services, specialized therapies, recreation and medical services specifically for each person's unique needs. Residents are involved in the design of their own individual program which incorporates their personal goals that may include educational opportunities, pursuit of interests and enjoyment.
A strong part of our programming is community integration. Each resident engages in productive life-skills training and recreational activities. Our strong interdisciplinary team helps each resident strive to maximize their responsibility, independence and socialization skills.
Residents on the 2014 Garden Walk
Our Admission Policy
Admission to Riverside Foundation is open to people with intellectual and developmental disabilities who are ambulatory, 18 years of age, medically and emotionally stable and able to benefit from the agency's programs. Individuals eligible for Medicaid, Social Security Disability or Supplemental Security Income may be funded entirely by one or a combination of these sources.
Riverside Foundation does not discriminate against any Individual regardless of race, color, creed, national origin, sex or sexual orientation who otherwise meets the above admission requirements.

The Riverside Foundation's campus and residential facility serves nearly 100 adults with intellectual and developmental disabilities. Over half of our residents have been here at least 20 years!

Group homes let residents live independently with assistance in a supportive, cooperative environment, while providing neighborhood living and a sense of community.

Our Work & Activity Center provides our residents with the opportunity to develop skills and assume responsibilities for real-life work in an environment that emphasizes individual goals and choices.
Looking to help out with a good cause?
A Riverside Story: Ruthann Simpson & David Gere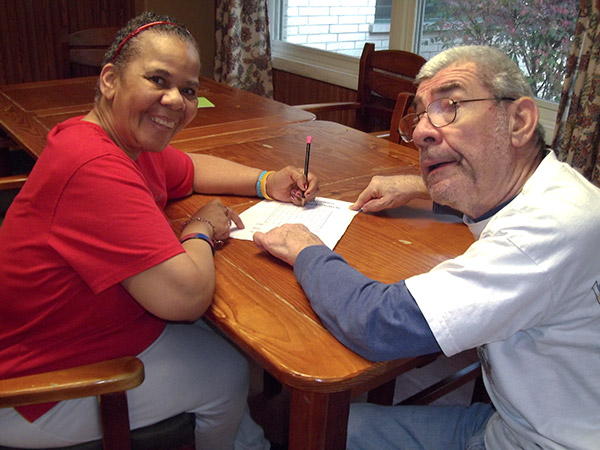 Ruthann Simpson & David Gere have known each other since "the old days" when they went to the Lake County Society of Human Development in Zion, Illinois in 1970. In 1978, Ruthann came to live at Riverside Foundation. They were reunited in 2011 when David also moved to Riverside. They are on the same team and participate in many outings and activities together. David and Ruthann are truly old friends.
"My brother-in-law, Kelly, had lived with his parents his entire life. At Riverside, we were impressed from the very beginning. The residents all seemed happy, healthy, well cared for and engaged in productive activities during the day. We feel very fortunate to have found Riverside."

− Mary Schneider, sister-in-law
Riverside Foundation relies on your donations to provide updated and enhanced equipment as well as innovative programming for our residents. Your generosity is guaranteed to have profound impact on someone's life. You can make a difference!