Riverside Foundation Women's Board Volunteer of the Year
1996 Katy Pohlmann
2007 Robin Coseo
1997 Bev Pyster
2008 Robin Ekenberg
1998 Sharon Hawkins
2009 Kim Resnick
1999 Karen VanderBeke
2010 Karen Bruns
2001 Chris Alger
2011 Ann Jarvie
2002 Mary Connelly
2012 Jill Raizin
2003 Vicki Heinze
2013 Leslie Munger
2004 Marcia Resnick
2014 Rande McMillan
2005 Rindy Hallarman
2015 Peggy Gaier
2006 Sandy Saltiel
Spreading Joy Through Numerous Activities For The Residents
Throughout the year, the Women's Board hosts a wide range of activities for the residents. Not only do they bring our residents joy, they help integrate each resident into the community.
Some of our events include:
4th of July parade and picnic
Pumpkin decorating in the fall
Exercise classes
Lunch dates with residents at local restaurants
A gift for each resident on his or her birthday
An ice cream social
Chaperoning various resident outings
And more!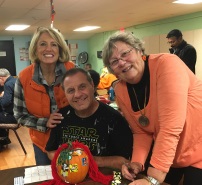 John Roth (seated) and Women's Board Members Leslie Munger and Jo Moser (standing l to r) at the Women's Board Pumpkin Decorating Event
Looking to help out with a good cause?
"When I visited Riverside, I knew that it was the right decision for our family. The staff is kind and friendly, the dining rooms, living rooms, and bedrooms are furnished and decorated in a homey way and Riverside has a fresh clean atmosphere. My daughter, Valerie, has a wonderfully active social life – and it feels good to know that she is a part of this caring community. It helps me be at peace with her future."

− Barbara Pennoyer, Parent
Riverside Foundation relies on your donations to provide updated and enhanced equipment as well as innovative programming for our residents. Your generosity is guaranteed to have profound impact on someone's life. You can make a difference!